Yunji Signing Contract with AliCloud for Technology Upgrading to Seek Better Life for 100mn Households
"By cooperating with AliCloud, we hope to build a set of clouds, namely, our Yunji platform, to provide the best services for China's 100 million households. We hope to march forward hand in hand with AliCloud and all the other friends of Yunji toward the goal of optimizing good life for 100 million households." This is the goal declared by Hao Huan, CTO of Yunji, at the signing ceremony with AliCloud on October 27.
At the signing ceremony, the two sides agreed to comprehensively strengthen technical cooperation. With the aid of AliCloud, Yunji will constantly upgrade its platform performances including logistics, warehousing, services, databases, etc. Li Jin, President of AliCloud in China, Yu Tianbao, General Manager of the Retail Division of AliCloud, Xiao Shanglve, CEO of Yunji, Hao Huan, CTO of Yunji and other representatives from both sides attended the signing ceremony and they all have high expectations for the cooperation.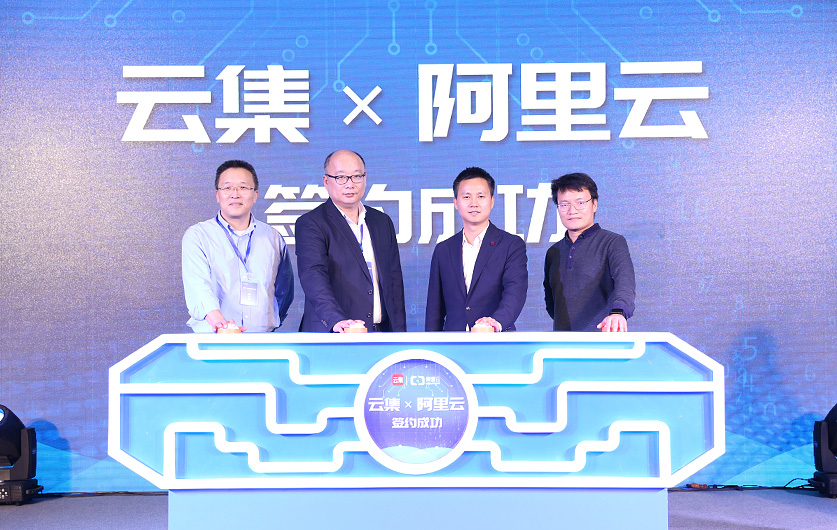 As early as its inception, Yunji built its cloud service system of "commodity cloud + service cloud" based on the infrastructure of AliCloud, which customized a series of improvement programs and optimizing proposals for Yunji to ensure the consistency and high efficiency of its "cloud businesses" in terms of stability, fluency and security.
Due to its very high intelligent operation efficiency, its "cloud businesses" can greatly reduce manual intervention. For example, in the first two years of its start-up, when Yunji's sales amount per day reached RMB5-6mn, Yunji only needed one person to complete its operation and maintenance; during last year's "Single's Day" (November 11), Yunji's sales amount exceeded RMB1bn and it used 3,000 servers of AliCloud, but it only needed four persons to be responsible for operation and maintenance. During this year's Single's day, Yunji will use 9,000 servers and it is estimated that it will need no more than 10 operation and maintenance employees. "It's all a miracle on the Cloud." Hao Huan assimilated the cooperation between Yunji and AliCloud to "riding on a high-speed train or a rocket". "Our impulse type marketing is awesome, but we are not afraid of our current technology strength, because we are of great flexibility."
"Yunji and AliCloud are doing the same thing - to create miracles in the information era, because with the same sales volume, Yunji invests least in human resources among all e-business platforms across China." According to Yunji CTO Hao Huan, with the service of AliCloud, Yunji only needs 10 operation and maintenance employees to support its gigantic sales volume.
AliCloud China President Li Jin believes that Yunji and AliCloud always grow and develop together and the past three years is the period when AliCloud and Yunji developed at their fastest paces. He said that it was the customers with innovated business model like Yunji that drive AliCloud to gradually move toward the vision of building technological infrastructures and engines for the digital economy. Although there are many challenges along the way, they will motivate us to make progress together and to provide better services for users and all the people of Yunji.
As pointed out by Yunji CEO Xiao Shanglve, after more than three years of efforts and accumulation, Yunji has established a sound membership service system. "Our cloud sharing system has helped individual retailers to solve their six major cloud service problems including supply chain, IT system, customer service, logistics, training, contents, etc. To strengthen the cooperation with AliCloud is to make preparations for the "All-People Shopping Spree" and deeper cooperation in the future.
Data show that as of the end of August 2018, Yunji owns 35 million common users and 5 million paying members. During the "Experience Yunji Membership for Free" activity held on October 20, Yunji attracted more than 7 million new experience members. On October 23, Yunji launched a series of "Yunji 11·11" preheating activities like the debut of pop-up stores in seven major cities, free experience membership and so on. At the same time, Yunji worked together with Dior, Adidas, Swarovski and other brands to play the trump cards of "historical low price" and "refund for price difference in 30 days".
"It is because of the escort of AliCloud that we have enough confidence to meet the enormous traffic flow and pressure brought by the all-people shopping spree." said Xiao Shanglve.