Chinese E-commerce Business releases brand advertisement at New York's Times Square, with Ordinary People among Brand Endorsers
A brand advertisement from a Chinese company appeared on NASDAQ screen at New York's Times Square on November 1, 2018. The company, known as "YUNJI", is a Chinese e-commerce platform based on membership system. It is not the first, and won't be the last Chinese company placing an advertisement on NASDAQ screen. But what impressed people most is the content of the advertisement.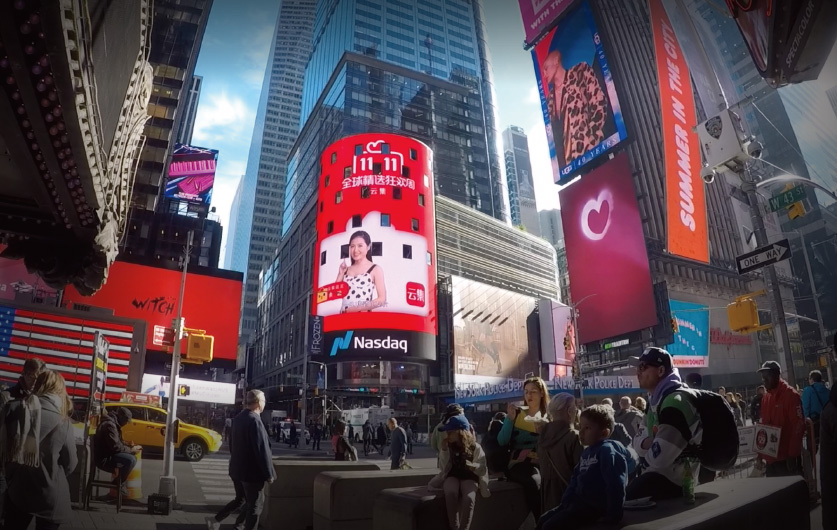 In most Chinese companies' brand advertisements which are placed on NASDAQ screen, the leading roles are usually famous celebrities who serve as companies' ambassadors. While in this advertisement, besides A-listers like Vicki Zhao and Joe Chen, some completely unfamiliar faces also appeared. They get together to wish YUNJI achieve a good result during the Chinese Double Eleven shopping festival.
In China, the Double Eleven shopping festival refers to the online retail promotion dogfight which takes place around November 11. It is the carnival of online shopping for Chinese consumers, which was originally started by Taobao, Chinese biggest on-line shopping platform. But in recent years, almost all Chinese e-commerce companies join the fierce competition of the festival, so as to grab more market share.
It is learned by the reporter that, these ordinary people appearing on the NASDAQ screen along with Vicki Zhao are actually YUNJI member store owners. But they are not ordinary members. They are the best-performing ones of millions of member store owners.
It is a rather creative branding strategy to invite celebrities and ordinary people to stand together at the crossroads of the world to endorse the brand. YUNJI is a membership-based e-commerce platform. By using the model of S2B2C, it empowers individuals and gives play to their strong role. The business model is an innovative result of YUNJI after three years of exploration. It is a breakthrough against the established forms of traditional e-commerce businesses. "S" refers to the structure of supply chain;"B" represents YUNJI store owners and "C" stands for end users. They are connected in a way that the "S" structure empowers "B" , and "B" serves "C" relying on their social communication ability and credibility; Further, predictions about sales and market trend are made in a reverse way. In this way, all parts of the whole industrial chain of supply, production and sales are well-connected. The model in essence shortens the communication distance between manufacturers and end users through social sharing and flow. After products being launched, users' feedbacks will be collected for optimizing subsequent products and promotion strategy. The user portrait data of YUNJI platform will help understand consumer demands and meet them to the maximum, which will contribute to corporate industrial upgrading and consumption upgrading.
This model is attracting more and more people to join the platform. On BJT October 20, YUNJI held a "To be a Trial Member for Free" campaign. More than 7 million people registered on that single day, which surprised the entire industry.
Now, the annual battle on Chinese Double Eleven festival has started. As a new rising star, YUNJI has also joined this battle. Its model of "E-commerce member merchants" and the strategy of "wholesale prices and selected products" have performed well. On October 23, YUNJI started the "first shot" for Double Eleven, and the results are outstanding: The SOLO LIFE mask pack priced at RMB399 saw its sales amount to RMB278 million on that single day.